Welcome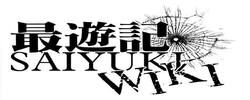 Saiyuki Wiki is a collaborative encyclopedia dedicated to everything about Kazuya Minekura's Saiyuki series. Anyone can create or edit any article. Let's all work together to build the ultimate information resource for this series.
There are currently 20,252 edits made to 478 articles since December 3, 2008.
About
Saiyuki is a manga series by Kazuya Minekura which was serialized in G-Fantasy from 1997 to 2002. The story is loosely based on the famous Chinese novel Journey to the West (XiyóuJì). Currently the manga has two sequels Saiyuki Reload (2002-2009), Saiyuki Reload Blast (2009-ongoing), a prequel Saiyuki Gaiden (1999-2002) and a mini arc now running at Zero Sum Ward, Saiyuki Ibun (2009-ongoing).
To write a new article, just enter the article title in the box below.

<createbox> width=24 break=no buttonlabel=Create new article

</createbox>
Navigation
News
February 24, 2021

ANNOUNCEMENT
Saiyuki Wiki is under new administration! Let's work together to grow this wiki! Contributors are welcome to create and edit articles, create blog posts, comment on articles, and participate in discussions.
August 28, 2015

Monthly Comic ZeroSum October 2015
Saiyuki Reload Blast Intro-color
February 28, 2015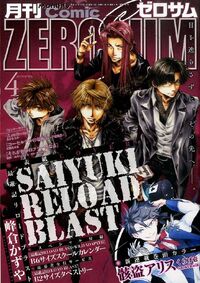 Monthly Comic-ZeroSum May 2015
May 28, 2014
April 28, 2014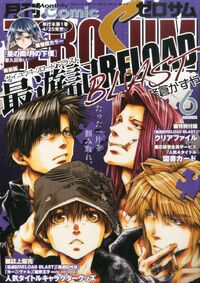 March 23, 2014
Happy 39th Birthday Kazuya Minekura.
January 10, 2014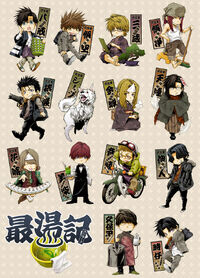 Re-published special from May 2013 ZeroSum Anniversary issue, is now on ZeroSum Online for a limited time (Jan 10-Feb 27, 2014). Read online for free.
January 01, 2014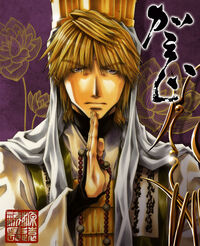 December 28, 2013
November 28, 2013

Saiyuki Reload Blast to return on February 2014 ZeroSum issue to be released on December 28, 2013.
Saiyuki Kagekiden to be restarted. Details of new cast announcement on February ZeroSum issue 2014.
New website unveiled:
November 8, 2013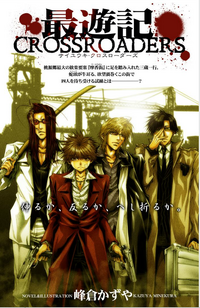 September 25, 2013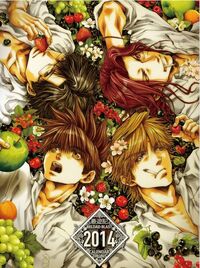 July 25, 2013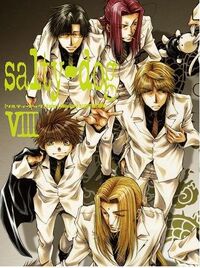 June 04, 2013
The illustration for the dice and guns event dedicated to Wild Adapter and Saiyuki on 14th July. Venue: Makuhari Messe International Exhibition Hall 1.2 More information!
April 25, 2013
March 31, 2013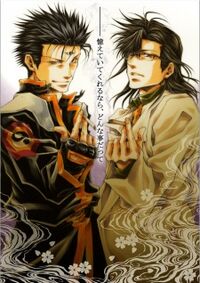 February 28, 2013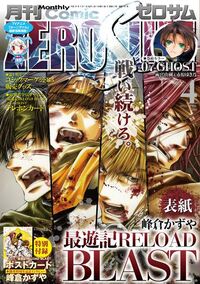 February 01, 2013
January 01, 2013
Minekura update's her blog with this years New Year's image(message).
November 16, 2012
October 28, 2012
September 09, 2012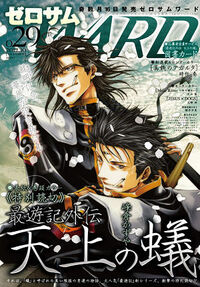 August 28, 2012
May 28, 2012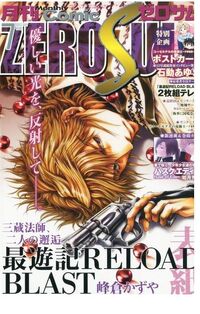 Latest chapter from Zero Sum 07 here.
March 25, 2012

Saiyuki Gaiden Video Anime Gets Special Edition
Read here
March 23, 2012

Happy B-day Minekura Kazuya!!!
December 31, 2011

Kazuya Minekura's New Year message for 2012.
May 10, 2011

Zero-sum online Publishing Saiyuki CROSSRADERS
Read here.
March 23, 2011

Happy B-day Minekura Kazuya!!!
March 16, 2011 (Japan post Earthquake/Tsunami news)

Kazuya Minekra other manga authors, Zero Sum/Ward Editors and Staff, current status:alive & safe.
Source: [1]
March 16, 2011

Third promo video streamed.
Source: video
January 7, 2011

Saiyuki gaiden site updated with a new PV showed at Comicket79. Video:OVA「最遊記外伝」第壱巻 プロモーション映像(2010年コミックマーケット79初出)
Minekura update's her blog with this years New Year's image(message).
December 31, 2010

Saiyuki Creator Kazuya Minekura Returns from Surgery.Saiyuki manga creator Kazuya Minekura reported on her blog on Tuesday that she returned from the hospital without incident. She had placed her manga on hiatus and had undergone surgery for ameloblastoma, a noncancerous tumor on her right upper jawbone. She noted that she received thousands of paper cranes to wish her well, and even her doctors and nurses remarked that they have never seen so many before. She thanked everyone who supported her. While she is returning to life at home, she is still on hiatus from her manga work.
She already had a previous operation, but the latest surgery removed the right half of her upper jawbone. The teeth on that part of her jawbone and the bone between her nose and mouth were also removed. As a result, she cannot eat food well, and she also cannot pronounce words properly. While the surgery spared the bone around her left eye, she did lose part of the bone around her right eye. Also as a result of the surgery, she lost the sense of touch on the skin on the right side of her face for the rest of her life, although her facial muscles can move normally. Minekura is being fitted with artificial prosthetics to reconstruct the area around the lost bone.
Source animenewsnetwork
December 25, 2010

This wiki would like to greet everyone, Merry Christmas and Advance Happy New Year!!!

Saiyukisama 10:29, December 22, 2010 (UTC)
October 8, 2010

special promo video was released (via Comic Market 78,- held at August 15, 2010 Tokyo)
September 28, 2010

The November issue of Ichijinsha's Monthly Comic Zero-Sum magazine has announced on Tuesday that Saiyuki manga creator Kazuya Minekura is putting her manga serial work on indefinite hiatus due to her poor health. Minekura provided more details on her blog on Tuesday. She explained that she is undergoing one medical check after another for a possible surgery, so she cannot maintain her work schedule.
Until her hiatus, Minekura had been drawing Saiyuki Reload Blast in Monthly Comic Zero-Sum and Saiyuki Ibun in Ichijinsha's Zōkan Zero-Sum Ward magazine.
Source animenewsnetwork,
July 24, 2010
July 14, 2010
June 28, 2010
June 25, 2010
May 25, 2010

???? ???? 2010? 07?? (Zero-Sum #07 available for order)
May 17, 2010

Zero-Sum Ward #015 out, chapter 5 of Saiyuki Ibun, included.
April 28, 2010

Zero Sum #06 (June issue) , chapter 5 out. T-shirts for pre -order, possible.
March 28, 2010

Chapter 4 of Saiyuki Reload Blast available for order/published. anniversary cd Zero-Sum 10-05 issue, with
March 27, 2010

Chapter 4 of Saiyuki Ibun now at Zero-Sum Ward #14 issue.
February 24, 2010

Chapter 3 of Saiyuki Reload Blast now out.
January 28, 2010

Chapter # 2 of Saiyuki Reload Blast now out.
January 20, 2010

relaunch of Nitro information site.
January 2010

Third chapter of Saiyuki Ibun realesed.
December 28, 2009

Saiyuki Reload Blast chapter #1 published on Monthly Comic Zero Sum.
November 3 , 2009

Manga creator Kazuya Minekura revealed at this past weekend's Saiyuki Festa'09 -Saiyuki Series Dai-Genga-Ten event that her Saiyuki Gaiden manga is being adapted into an original video anime (OVA) project. The schedule and other details have yet to be determined. The manga just ended in Ichijinsha's Monthly Comic Zero-Sum magazine in June.
November 2009

Second chapter of Saiyuki Ibun now out.
September 17,2009

Manga creator Kazuya Minekura has launched her Saiyuki Ibun historical adventure series in the 11th issue of Ichijinsha's Zero Sum Ward magazine on Wednesday. According to Minekura in a July 16 blog entry, Saiyuki Ibun recounts how a man grew up to become the pivotal character Komyo, years before the first Saiyuki storyline.
Minekura had stated in a May 2 blog entry that her next series will be the final act of Saiyuki. However she had since downplayed that statement in a later July 12 entry. In that entry, she said that she will launch a series called Saiyuki Reload Blast in Monthly Comic Zero-Sum magazine in December. Monthly Comic Zero-Sum magazine is another Ichijinsha publication; it had serialized the Saiyuki Reload manga until its end in June.
Promotional Video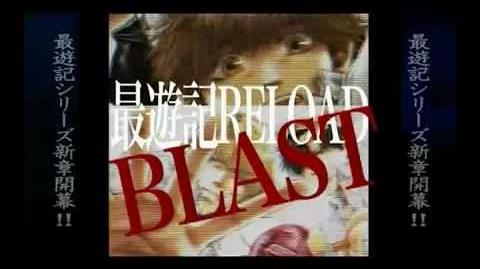 Saiyuki Discord
Join the Saiyuki Wiki Discussion hosted at the Saiyuki Discord Chatroom! If you're looking for an active and friendly place to engage with other Saiyuki fans, please check it out! (Saiyuki Wiki does not manage Saiyuki Discord. For Saiyuki Discord related concerns, please contact Saiyuki Discord moderators directly.)

Affiliated Wikis


---
We are open for affiliation. Please message us here.