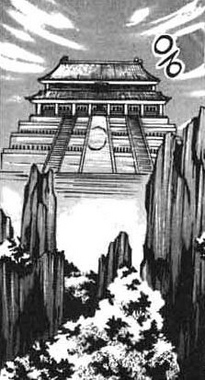 The Palace of the Setting Sun 【斜陽殿 Shayouden】
☆ The temple erected at the mountaintop in Chang'an's southern section. It is the one holy place that connects the earth with the heavens, and it is here that messages from the Three Aspects are received.
☆ Only high-ranking monks like the Sanzo Priests are allowed to set foot into this temple, but Cho Gonou entered for an audience, and Genjo Sanzo once tried to bring Goku along, so perhaps this rule is surprisingly loose.